Burns
Keara has hosted and toasted several Burns' Suppers in
Scotland, London and America
for 20 years!
TWICE CHOSEN FOR RADIO 4 "PICK OF THE WEEK"
BBC Radio Scotland Series on Robert Burns' Secrets:
Episode 1: The Secret Sex Life of Robert Burns
Episode 2: The Secret Tax Life of Robert Burns
Episode 3: The Secret Rock 'n' Roll Life of Robert Burns
Episode 4: The Death and Resurrection of Robert Burns
THE BARD AND I

With Robert Burns' statue at the Burns' Birthplace Museum in Alloway, Scotland
I have loved Robert Burns ever since I was a wee lassie.  My siblings and I were brought down to Alloway, when we were very little, by our father – and, later, our Uncle Billy – who has a home there – to explore Burns' Cottage and The Burns' National Heritage Park – now the Robert Burns' Birthplace Museum.
We were all given a bit of pocket money and my brothers and sisters spent theirs wisely on Knickerbocker-Glories and Seven-Up. And I blew mine on a large book of poetry.
My siblings have proper jobs now whilst I stay at home and read aloud to the mice.  So, I do feel I can relate pretty closely to Robert Burns, for the life of the pauper poet, it seems, is not that much different from the life of the jobbing comic.
"Keara offers an emotive and personal alternative to a traditional Burns' crass tribute act.  Her 20 minute set was packed with discussion, jokes and a little poetry.  She was well received by our crowd of all ages, who enjoyed the intelligent Burns' banter.
She is a literary star in the making"
Eric Roberts, Friday Fix – Voodoo Rooms



The Scotland on Sunday article relating to my play,
The Secret Sex Life of Robert Burns
Today, I am proud to be a professional Burns' Speaker, host, broadcaster and author of three plays about our National Bard, Mice and Women, which is a modern day feminist take on the poem, To A Mouse; The Secret Sex Life of Robert Burns, which was presented to a full house at The Netherbow Theatre, The Scottish Sorytelling Centre, Edinburgh; and The Bard and I, which is all about my relationship with Robert Burns, the experiences I have had searching for him, which included my travels throughout Scotland, Central Europe, England and the West Coast of America.
The Bard and I
 I specialise in The Response on Behalf of the Lassies – or The Lassies Reply, or, as it is called these days, The Toast To The Laddies, as well as The Immortal Memory speech and can deliver the Address to a Haggis with vigoIr and gusto – along with recitations of To A Mouse, On Turning Up Her Nest With The Plough (with some modern day references) and (for the lassies) To A Mountain Daisy – which is quite beautiful.
"Keara brings a warmth and enthusiasm with her, not to mention a deep knowledge and passion for Robert Burns."
Graham Blaikie
Scottish Licensed Trade Association

Here are some events I am have been involved with in the past and some new updates and events coming up including some reviews and a video of me in action.

"It was a pleasure to hear Keara Murphy recite Burns at The Friday Fix's Comedy Burns Night in January.  Her clarity and passion made for an intelligent, earthy and robust reading."
Fiona MacDonald
Burns Festival 2019
24th January – Interview with Jenni Murray on BBC Radio 4 Women's Hour discussing
Robert Burns' Sex Life.
27th January – A Walk from St Giles to The Toolbooth Tavern discussing Robert Burns' life in Edinburgh, visiting a range of interesting places he visited and the stories they inspired. Events Details here: Robert Burns: Naughty, Radical, Scandalous!
Press for this event: The Edinburgh Guide
Several Burns Suppers in Scotland, London, Central Europe and America.
BURNS
FESTIVAL 2018
BBC Radio Scotland
The Death and Resurrection of Robert Burns 
Was broadcast on 25th January 2017
Keara Murphy explores the strange afterlife of Robert Burns who was not allowed to rest peacefully in his grave for long and whose afterlife was more eventful than you might think. Phrenologists, spiritualists and worthy admirers all wanted a piece of the
post-mortem Burns – sometimes literally.
He was disinterred twice, including his skull being taken for a midnight walk to a plasterer's workshop in the cause of phrenology. Dr Megan Coyer of Glasgow University explains all, Professor David Price of Edinburgh University examines the plaster cast of the skull with us and poet Stuart Paterson contemplates the afterlife of Scotland's bard with some verse of his own.
Investigating Burn's alleged afterlife in 1850s Yorkshire, People's Historian Dan Gray introduces us to the Keighley Spiritualists and the terrible poems they claimed they'd channelled from Rabbie himself. Had he really taken up temperance and lost his Scots tongue in Yorkshire? Clearly you can't keep a good poet down – because as a séance favourite he pops up all over the place.
Join Keara to find out more about Burns beyond the grave.

BURNS FESTIVAL 2017
BBC Radio Scotland
The Secret Rock 'n' Roll Life of Robert Burns
Was broadcast on 25th January 2017

A Burns Portrait for a Modern Age
(Photographer and Special Effects: Keara Murphy.)
This brand new documentary focused on the celebrity lifestyle of Robert Burns. How did he know he was famous? How did he behave once he had become famous? How did he capitalise on his fame? What kind of 'Rock 'n' Roll behaviour did he get up to on tour? Did he smash up hotel rooms? Did he run his horse and cart into the swimming pool? Did he throw his Bible out of the hotel room window?
And how did he treat – or mistreat – the ladies he met on his travels?  Did he behave himself or was he a very naughty boy? And, if so, did he get away with it all?
All will be revealed on 25th January 2017, only on BBC Radio Scotland.
Check the BBC Radio Scotland schedule for more details. 

Presented by me, with some fabulous contributors (more on that story later) and produced by the fabulous Dr. Louise Yeoman.

BURNS FESTIVAL 2016
BBC Radio Scotland
The Secret Tax Life of Robert Burns
Was broadcast on 20th January 2016

Interviewing maritime historian, Dr Eric Graham, in The Custom House, Leith in order to explore the poet's job as an Excise-man
This brand new documentary focused on the finances of Robert Burns. Why could he not make a living as a poet? Why did he struggle to make ends meet on the farm? Why did he at one point, desperately, almost run away to Jamaica to drive the Slave Plantations? And why, why oh why, even when he was earning good money at the Excise in Dumfries, was he in fear of ending up in the Debtor's Prison? What on earth was he spending his money on?
All was revealed on the 21st January 2016 on BBC Radio Scotland. I will update you when they decide to air a repeat.
Astonishingly, as I attend Burns Suppers as a speaker, some of the best known Burns' speakers are now quoting great lines from this – and my other documentary, The Secret Sex Life of Robert Burns. Some are quoting me to me not realising it is me! Ha!
It is not unusual for me to rewrite my speech at the table as others are now quoting me from the podium with material taken from my website and radio appearances and incorporating it into their speeches. Whilst it can be a little awkward, I prefer to see it as high praise indeed.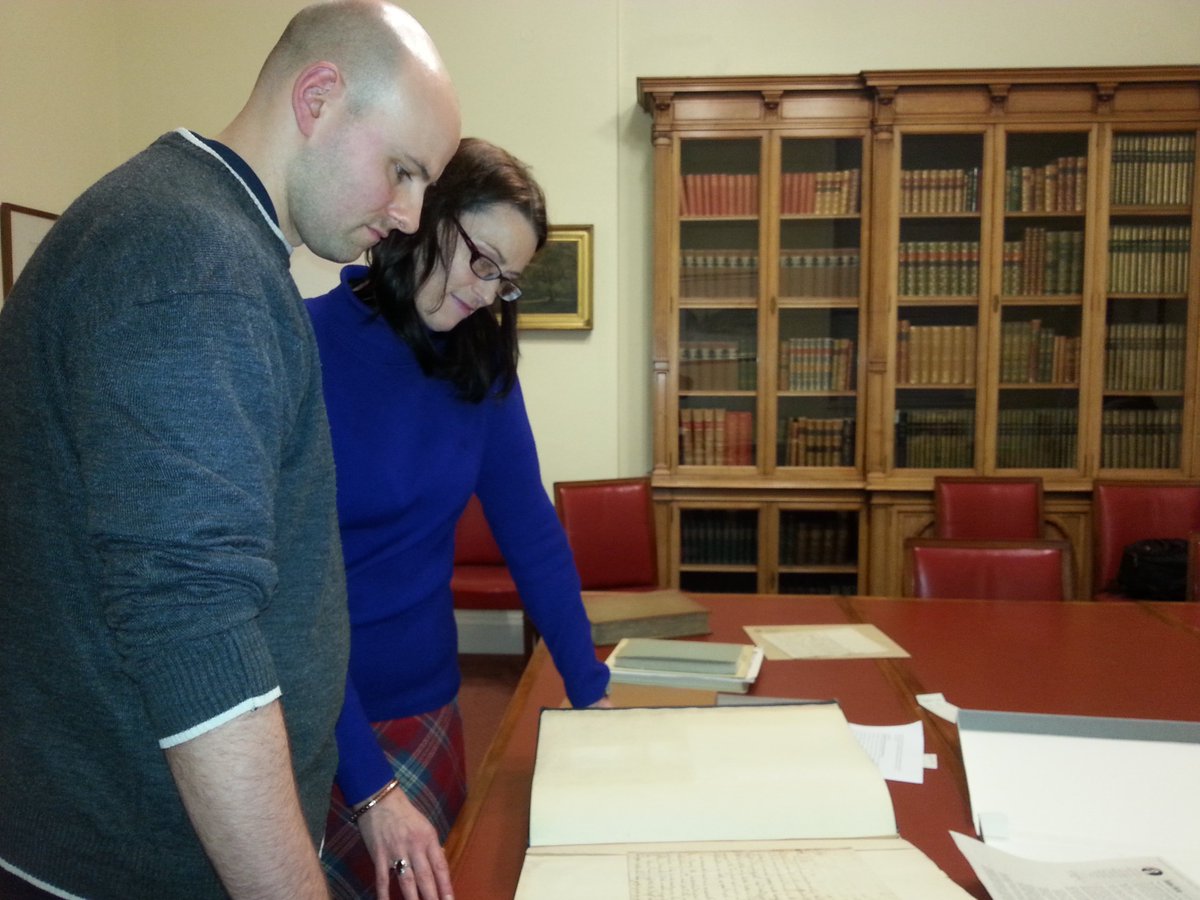 Pouring over Robert Burns' finances at The National Library of Scotland with Dr Ralph McLean, historian and Burns' expert.

BURNS FESTIVAL 2015
BBC Radio Scotland
The Secret Sex Life of Robert Burns
Was broadcast on 25th January 2015
(Adapted for stage and performed at The Scottish Storytelling Centre,
Edinburgh, to a sold-out crowd in January 2016)
From left to right: Trish Mullen, Martin Haddow, Jennifer Walker, Keara Murphy, Heather Haddow – photographer: Douglas Timmins
The Secret Tax Life of Robert Burns was the second part of a three-part series on the 'Secret Life of Robert Burns' The first instalment was The Secret Sex Life of Robert Burns, which was a brand new documentary about Robert Burns and his notorious reputation as a womaniser. This show aired on Burns' Day 25th January 2015 on BBC Radio Scotland and was picked up for a BBC Radio 4 "Pick of the Week" by Jackie Kay, Scotland's Maker – National Poet for Scotland.
My producer is the amazing Dr Louise Yeoman from BBC Radio Scotland – along with a range of other contributors including Professor Robert Crawford, author of The Bard; Chris Waddell from Burns Birthplace Museum; Historian, Dr Katie Barclay; and curator of The Georgian House, Dr Sheonagh Martin – along with readings and songs from some of Scotland's best known actors.
I have now adapted this show for a LIVE drama-documentary which was performed at The Scottish Storytelling Centre on the 21st January 2016. This show sold out and was featured in a full-page article in The Scotland on Sunday newspaper.
This is a show filled with stories, music, comedy, drama, tragedy – and a right good old sing-a-long. – Oh, and a wee bit of sex!

Produced by our female-led company, Blue Eyed lassie, and this show is now in talks with regards to touring opportunities.
The Scotland on Sunday article can be found here:
Keara talks to Scotland on Sunday about Burns' Women
Photographer: Robert Pereira Hind
Keara Murphy: Mice & Women
I wrote and performed my one woman comedy play called, Mice & Women, which enjoyed outings to  The Big Burns Supper Festival in Dumfries in January 2014 and finally at The Alloway Burns Festival in 2015 –  with trips to the Glasgow Comedy Festival and The Leith Festival in between.
This play is a modern feminist parallel on the Robert Burns poem To A Mouse taking in the themes of the original parallel, Steinbeck's novella, Of Mice And Men.
The play takes in the themes of crushing loneliness, intense isolation and the need for companionship – as in Steinbeck's novella. But my show also involves Scrabble and chicken wings and Snickers Bars. And the main difference between my show and the novella is that my show is a comedy.
In Alloway, this play was part of a double-bill I gladly shared with folk-legend, Dougie MacLean, author of Scotland's unofficial National Anthem, Caledonia!
– That was certainly a Burns' Night to remember!
"Electric stage-presence; a genuine delight!"
ThreeWeeks
"A great character actress whose comic creations go beyond the one-dimensional sketches, they live! – And make you laugh and cry!"
The Scotsman

Radio 4 'Pick Of The Week'
Jackie Kay, Scotland's Maker – National Poet for Scotland

"Intelligent Burns banter"
Eric Roberts

"Passionate, enthusiastic and deeply knowledgeable about
Robert Burns"
Scottish Licence Trade Association
Toasting The Response on Behalf of The Lassies at The Corn Exchange, Edinburgh –
alongside Karen Dunbar and Des Clarke in aid of
St Columba's Hospice
A wee clip of me in action…
Filmed by Sabine Claus from Creative Editor at The Mercat, Edinburgh
"I have had the pleasure of working with Keara on many occasions.  She is a very funny, engaging and experienced comedian who can raise an electric atmosphere with virtually every audience.
"When we were looking for After Dinner Speakers for our hugely successful Burns' Nights, we looked no further than Keara. Presenting The Reply on Behalf of The Lassies and The Address to a Haggis, we were all entertained by Keara's wonderful wit and practiced prose.
"She then led a massive audience sing-song at the end of the evening involving some of Rabbie's finest works, finishing with
Auld Lang Syne!

"Keara is a polished, versatile performer and a fun woman to have around – A Femme Extraordinaire! – Especially on Burns' Night."
Chris Reid, Henricks Bar, Edinburgh


"I have booked Keara many times over the years for a variety of events and she never disappoints.  She has done Burns' Night for me on many, many occasions and she always brings a warmth and enthusiasm with her, along with a deep and passionate knowledge for Robert Burns. Keara's Response on Behalf of the Lassies is informative, funny, cheeky and above all loyal to The Bard. She also does a mean Address to a Haggis making it well understood  and very funny – with added mime and gesture for those of us not as adept at Scots as Keara is. One of the finest addresses I have ever seen"
Graham Blaikie
Chairman of The Scottish Licensed Trade Association
Member of the Robert Burns World Federation